5 Spanish series to watch on Netflix
Since the phrase: "Netflix and chill" is part of our daily lives, Why not use the platform for more than just entertainment?
Here are some of the series on Netflix in the language of Cervantes, from comedies, historical plots, and mysterious thrillers.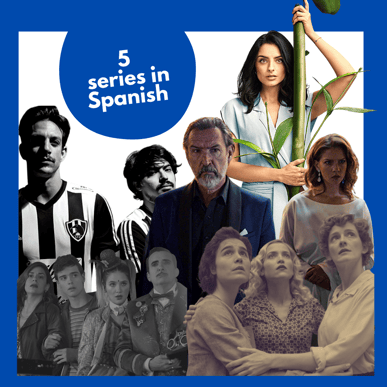 1. Cable Girls (Las chicas del cable) : Set in 1929, this is the story of four women from diverse backgrounds hired as operators for the only phone company that existed in Spain at the time. A story that highlights female friendship in a male-dominated society
2. The House of Flowers (La casa de las Flores): This is not a telenovela, although the characters seem to be from one: A dysfunctional upper-class Mexican family that owns a floristry shop. No doubt the drama is assured.

3. Club of Crows(Club de cuervos): A Mexican series in which two brothers become rivals in a fierce struggle to run the football club left to them by their father.
4. Who killed Sara? (¿Quién mató a Sara?) : The protagonist of this mystery series is Álex Guzmán, who is in search of the culprits behind the death of his sister 18 years ago. Revenge and secrets are the main ingredients of this series.
5. Unremarkable Juanquini (Los Chichipatos) : a Colombian comedy with colorful characters and an unexpected ending.