After the FREE Demo
Prices & Packages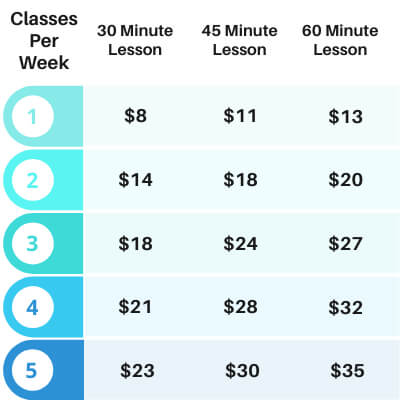 Prices explained:
It can take some time to become fluent in a foreign language. With us on average it takes about 20 lessons per level if you study consistently and do all the homework. So if you are a beginner it could expect to speak fluently in 100 lessons or so. The more frequently you take these lessons the more effective the learning process becomes.

Our pricing model encourages those who study more frequently. The more you study, the cheaper it becomes! Please click here to read a blog or watch a video to see whether you have what it takes to master foreign language.

See the form below for specific prices. Click here for information on Accounts & Billing.
Claim your Back to School discount! ☀️
Why Our Clients Choose OCTB
"
It is structured, yet free-flowing.
It's a really good system, I like that it's structured, yet at the same time free flowing! It works out perfectly because our teacher adapts to teaching my son & I.

"
I was always making the same mistakes.
I would always make the same mistakes and no one was correcting me. With OCTB each time I learn new vocabulary and get grammar corrections.

"
The problem with language apps is...
The problem with a lot of traditional language learning apps is that you learn the types of sentences that you are never going to use in everyday life.